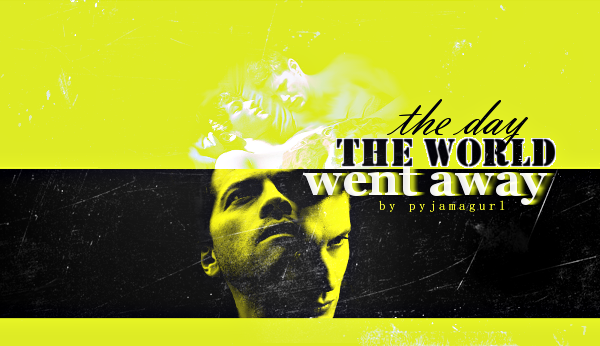 Banner by
i_rise_inside
Title:
The Day the World Went Away
Author:
pyjamagurl
Fandom/Genre:
Supernatural. Time travel, future-fic, with some domestic-fic and case-fic leanings.
Pairing(s):
Dean/Cas, Sam/Sarah, and references to past Dean/Lisa
Rating:
NC-17
Word Count:
59, 658
Warnings:
Based post 5x22, Contains potential S6 Spoilers, eventual smut. Falling/fallen-Cas.
Artist:
888mph
Link to Art:
Here
Summary:
After being reunited with Sam and leaving Lisa, Dean is finding that adjusting back into the hunting lifestyle is harder than he thought it would be. When a particular hunt goes badly, he gets knocked out, only to awaken five years in the future. Things are definitely different; Castiel is a hunter, Sam is married and
things
between Dean and Castiel have gone somewhere Dean really hadn't expected. And somewhere in all of this there is a lesson to be learned.
Prologue,
Part One,
Part Two,
Part Three,
Part Four,
Part Five,
Part Six,
Epilogue
Full Author's Notes and Thanks
Fanmix

There is now a PDF file available at Sendspace
You can also find other ebook formats here courtesy of
ithindiniel!
Current Mood:

accomplished